Bartender Jason McGrady created these Twilight-themed drinks.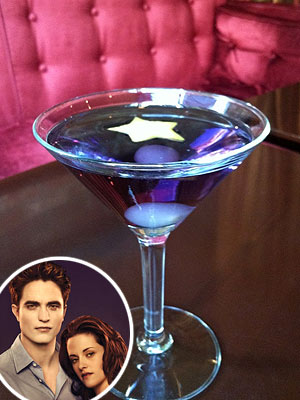 New Moon
(pictured above)
1 oz. vodka
1 oz. triple sec
1 oz. creme de violette
Stir contents in a shaker and serve up in a martini glass. Garnish with a piece of citrus cut out with a star-shaped cookie cutter.
**I would love to try this! & BTW I can't wait to see Breaking Dawn. I am just waiting for the teeny boppers to get their fill before I even attempt to go to the theater!
The Edward
1 ½ oz. Plymouth gin
½ oz. Licor 43
½ oz. Plymouth sloe gin
½ oz. lemon juice
Served on the rocks with a lemon twist
Full article:
Click Here